Callaway (ELY) is one of the best known golf brands in the world selling its products in more than 70 countries worldwide. However
since the passing of its founder in 2001
ELY has struggled as the brand became less focused on drivers and clubs and its core golf users.
The golf industry as a whole has suffered from the financial crisis with industry golf sales down 13% from the 2007 peak. Within this decrease
ELY has consistently lost market share as competitors such as
TaylorMade (owned by Adidas) and Titleist (owned by Fila) stepped up marketing and innovation.
However there are signs of a turn around with ELY's marketshare of 15.1% year to date up 1.1% on last year (See ELY marketshare below). Import
antly their latest results are showing signs of profitability with expectations for a 2013 pre tax income.
In the CEO's words "with that said, our turnaround is proceeding at or above our original expectations, particularly given the headwinds we experienced this year from unfavorable changes in foreign currency rates, adverse weather conditions, a very late start to the 2013 golf season, and higher than normal promotional activity in both North America and Europe."
The turnaround
New management, a change in marketing, product execution and a reduction in cost structure have helped. The new CEO brought in last year Oliver Brewer has streamlined their business by selling the Ben Hogan and Top Flite brands.
He also licensed the apparel operations to third parties so that ELY could focus on its core club and ball business. ELY's cost structure was reduced to $340 million down from last years run rate of $380 million in expenses reducing the number of employees from 1,800 to 1,500 as of December 2012.
ELY beefed up marketing signing endorsement deals with Phil Mickelson, Ernie Ells and Ryo Ishikawa. Though Phil Mickelson was recently spotted using a TaylorMade driver. Apparently Phil has one of the most flexible equipment contracts of any top player and can play with other brands from time to time.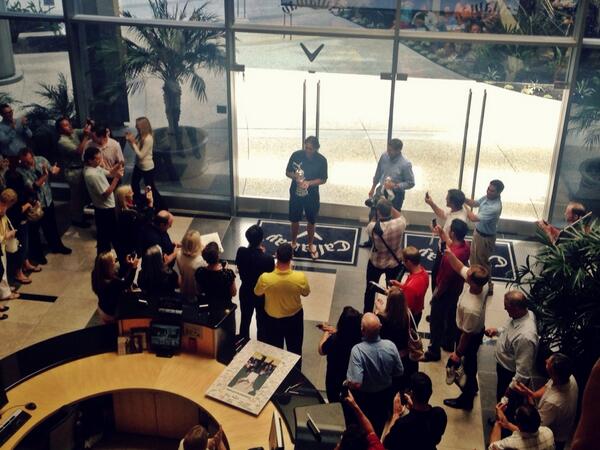 Phil at Callaway HQ thanking the staff for their support after British Open win.
The back nine
Golf becomes an Olympic sport at the 2016 Rio games with the 2020 games awarded to Tokyo. Japan is the largest international market for ELY. There is also the Chinese golfing opportunity, with gold medals now on offer and China's historic dominance in sports involving mental focus golf in China will surely be a driver of growth.
After years in the rough ELY now looks to be finishing under par.
Disclosure: Decisive has no long position in Callaway (ELY) stock
The material in this article is for informational purposes only and in no way constitutes a solicitation of business or investment advice. The material has been prepared without regard to any client's or other person's investment objectives. Before making an investment decision you should consider the assistance of a financial adviser and whether any investment or service is appropriate in light of your particular investment needs.